All The Bright Places – Jennifer Niven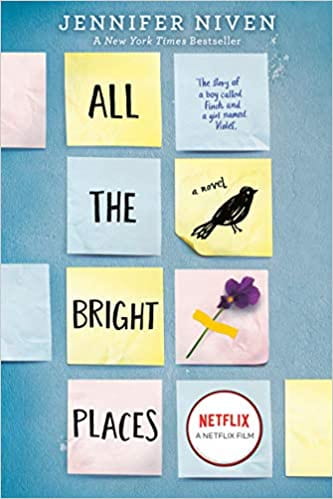 Pages Read: 388/388
✮✮✮✮✮
This is a story about Violet Markey and Theodore Finch, two troubled teenagers who meet on the ledge of their school bell tower as they contemplate committing suicide for different reasons. The two are brought together as Finch convinces Violet to pair up for a school project where they will explore the wonders of Indiana, hoping to bring her out of her shell and teach her how to learn to live her life despite his own silent suffering. They both discover that the smallest moments in life can be the most meaningful.
Favorite Quotes:

"You are all the colors in one, at full brightness."
"It's my experience that people are a lot more sympathetic if they can see you hurting, and for the millionth time in my life I wish for measles or smallpox or some other easily understood disease just to make it easier on me and also on them."
 "I'm not a compilation of symptoms. Not a casualty of shitty parents and an even shittier chemical makeup. Not a problem. Not a diagnosis. Not an illness. Not something to be rescued. I'm a person."
Comments:
All the Bright Places is a heart-wrenching novel, it made me feel so deeply for Violet and Finch and had me tearing up towards the last 40 pages. The characters are far from being okay and I found myself relating to both of them and felt like wrapping them up in a hug. I think that the author did a great job at portraying the character's experience with mental illness but could have been a little clearer with Finch's psychological struggles which many people identify as bipolar disorder. The flow and duality with the lingering darkness in the novel and the sense of hope also makes the story even more gripping and real. Violet and Finch's rocky relationship was filled with ups and downs, and I enjoyed seeing it blossom into something truly endearing. I also liked the Virginia Woolf references 🙂 I would definitely recommend this book!
The Hate U Give – Angie Thomas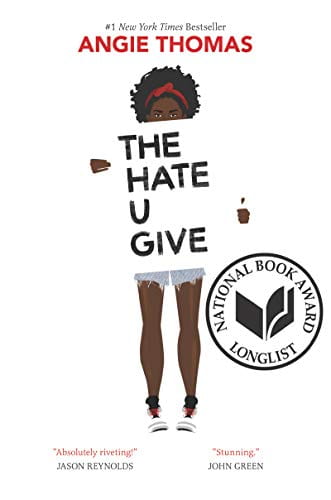 Pages Read: 312/444
✮✮✮✮✮
16-year-old Starr Carter lives in Garden Heights, an impoverished neighborhood, also known as the ghetto. She attends Williamson, a predominantly white private school where she pretends to be someone she's not. This uneasy balance is completely shattered when one tragic night after a party, she witnesses the death of her childhood best friend, Khalil, who was unarmed when a white police officer shot him. Starr is the only one who can confirm what happened that night and what she says or does not say could cause chaos and endanger her life.
Favorite Quotes:
"Once upon a time there was a hazel-eyed boy with dimples. I called him Khalil. The world called him a thug.
He lived, but not nearly long enough, and for the rest of my life, I'll remember how he died.
Fairy tale? No. But I'm not giving up on a better ending."
"At an early age I learned that people make mistakes, and you have to decide if their mistakes are bigger than your love for them."
Comments:
This novel is without a doubt is worthy of reading, maybe even more than once, I'm sure it has and will continue to change lives. This book really resonates with the times we are living in – so I'd encourage everyone to read it. With the recent rise in #BlackLivesMatter movements, I had to read this book online after I couldn't get my hands on it for almost a year. I loved being on this journey with Starr, it was so raw and powerful and it simply struck me. The movie was phenomenal too so definitely watch it if you haven't.

Reflection:
December 2020: Total # of Pages Read: 388 Total # of Pages Read every day (388/31 days): 12.5
January 2021: (In Progress): Total # of Pages Read: 312 Total # of Pages Read every day (312/20days): 15.6
images:
https://m.media-amazon.com/images/I/41A2UunZ0aL.jpg
https://images-na.ssl-images-amazon.com/images/I/41tlhlBUnpL.SX331_BO1,204,203,200.jpg